EMODnet Human Activities: Pipelines
The dataset on offshore pipelines in the EU was created in 2017 by Cogea for the European Marine Observation and Data Network (EMODnet). It is the result of the aggregation and harmonization of datasets provided by several sources from all over the EU (plus Norway). The database contains lines representing the actual routes of offshore pipelines (where available) in the following countries: Croatia, Denmark, Estonia, Finland, Germany, Ireland, Netherlands, Norway, Poland, Russia, Spain (Andalucía) and United Kingdom. Each line has the following harmonized attributes (where available): code, name, status (abandoned, active, not in use, planned, pre-commissioning, proposed, under construction), medium (air, chemical glycol, chemical methanol, chemical n/a, condensate, control, cooling water, gas, geothermal heating, hydraulic, mixed hydrocarbons, oil, other fluid, sewage, water), operator, size (inches), length (metres), year, from and to locality or facility, country code, country and notes. Compared with the previous version, this new version includes the UK pipelines of oil and gas activities.
Simple
Date (Publication)

2018-01-21
Date (Revision)

2019-12-20
Date (Creation)

2017-12-20
Identifier

EMODnet_HA_HE_Pipelines_20191220
GEMET - INSPIRE themes, version 1.0

Utility and governmental services
INSPIRE - Feature Concept Dictionary, version 3

Pipe

Transport Network

Transport Object
GEMET - Groups, version 2.4

EFFECTS, IMPACTS

TRAFFIC, TRANSPORTATION
GEMET - Concepts, version 2.4
SeaDataNet Parameter Disciplines
Use limitation

Re-use of content for commercial or non-commercial purposes is permitted free of charge, provided that the sources (both EMODnet - Human Activities, and primary sources) are acknowledged. EMODnet - Human Activities accepts no responsibility or liability whatsoever for the re-use of content accessible on its website.
Access constraints

Other restrictions
Other constraints

no limitation
Denominator

100000
Metadata language

English
Topic category
Distribution format
OnLine resource

EMODnet Human Activities

(

WWW:LINK-1.0-http--link

)

EMODnet Human Activities aims to facilitate access to existing marine data on activities carried out in EU waters, by building a single entry point for geographic information on human uses of the ocean.
OnLine resource

EMODnet_HA_Pipelines_20191220.zip

(

WWW:DOWNLOAD-1.0-http--download

)

ZIP (File Geodatabase / Shapefile)
OnLine resource

pipelines

(

OGC:WMS-1.3.0-http-get-map

)

Pipelines
OnLine resource

emodnet:pipelines

(

OGC:WFS

)

Pipelines
Hierarchy level

Dataset
Conformance result
Date (Publication)

2008-12-04
Explanation

See the referenced specification
Pass

Yes
Conformance result
Date (Publication)

2010-12-08
Explanation

See the referenced specification
Conformance result
Date (Publication)

2009-12-15
Explanation

See the referenced specification
Pass

Yes
Statement

Data were retrieved from 7 different sources. Validation and quality assurance remain up to primary data sources, while harmonization is carried out by Cogea. For further information on validation and quality assurance, it is suggested that primary data sources are contacted. Generally speaking, data are to be considered very reliable, because they come from national sources officially in charge for their collection.When a pipeline crosses more than a country, it may appear as two different pipelines which do not perfectly overlap. This is because it was not possible to harmonize the geometric component of the data, as each source reports a slightly different pipeline's path and there is no way to know which one is more accurate.
Overviews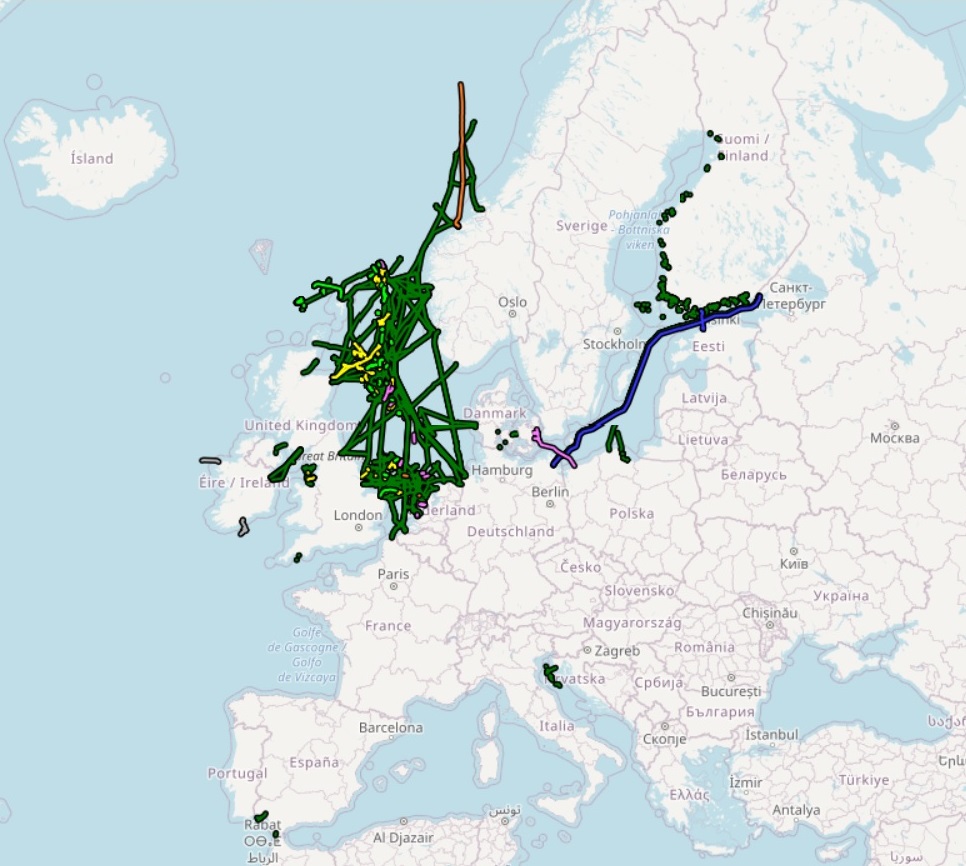 Spatial extent
Provided by
Associated resources
Not available