EMODnet Human Activities, Environment, Nationally designated areas (CDDA)
The Common Database on Designated Areas (CDDA) was created in 2014 by Cogea for the European Marine Observation and Data Network. The CDDA is commonly known as 'Nationally designated areas' and it is the official source of protected area information from the 37 European countries to the World Database of Protected Areas (WDPA). This dataset is entirely based on GIS Data from the European Environmental Agency's (EEA), plus external links and selected EEA tabular data joined by Cogea to the feature attributes, as well as a calculation by Cogea of marine and coastal location of features. The data are delivered by the Eionet partnership countries as spatial and tabular information. The inventory began in 1995 under the CORINE programme of the European Commission. It is now one of the agreed Eionet priority data flows maintained by EEA with support from the European Topic Centre on Biological Diversity. The dataset is used by the EEA and e.g. the UNEP-WCMC for their main European and global assessments, products and services. The CDDA data can be queried online in the European Nature Information System (EUNIS).The whole dataset is available for download on the EMODnet Human Activities portal. In the webmap the EEA dataset has been filtered by Cogea to show only (i) marine areas, i.e. areas with a marine percentage higher than 0 and/or a marine "ecotype" (as calculated or reported by the EEA) and (ii) areas that, even if not identified as marine by the EEA, intersect the coastline or that are within a distance of 1 km from the coastline. In both cases the coast_mar field value=1. The coastline datasets are available at https://www.eea.europa.eu/data-and-maps/data/eea-coastline-for-analysis-2 for continental areas, at https://ec.europa.eu/eurostat/web/gisco/geodata/reference-data/administrative-units-statistical-units/countries#countries20 for areas in overseas entities. Geographical coverage of GIS vector boundary data: Albania, Austria, Belgium, Bosnia and Herzegovina, Bulgaria, Croatia, Cyprus, Czech Republic, Denmark, Estonia, Finland, France, Germany, Greece, Hungary, Iceland, Ireland, Italy, Kosovo under UNSC Resolution 1244/99, Latvia, Liechtenstein, Lithuania, Luxembourg, North Macedonia, Malta, Montenegro, the Netherlands, Norway, Poland, Portugal, Romania, Serbia, Slovakia, Slovenia, Spain, Sweden and Switzerland. Following the United Kingdom's withdrawal from the EU on 31 January 2020, it ceased to be part of the EEA's institutional networks and governance. EEA does not have permission to distribute some or all sites reported by Estonia, Ireland and Turkey. Compared with the previous release, this one includes the updated dataset 'CDDA_2022_v01_public', published by the EEA in June 2022. For further information please visit the EEA's website.
Simple
Date (Publication)

2015-10-05
Date (Revision)

2022-07-13
Date (Creation)

2015-08-31
Identifier

EMODnet_HA_Environment_CDDA_v20_20220713
GEMET - INSPIRE themes, version 1.0

Area management/restriction/regulation zones and reporting units

Land cover

Protected sites

Habitats and biotopes
GEMET - Concepts, version 3.1

protected area

natural area

natural areas protection
Use limitation

Re-use of content for commercial or non-commercial purposes is permitted free of charge, provided that the sources (both EMODnet - Human Activities, and the EEA) are acknowledged. EMODnet - Human Activities accepts no responsibility or liability whatsoever for the re-use of content accessible on its website. Copyright holder: European Environment Agency (EEA); Estonian Environmental Register 01.01.2019; ©Finnish Environment Institute, 2018; Land Burgenland, Land Kärnten, Land Niederösterreich, Land Oberösterreich, Land Salzburg, Land Steiermark, Land Tirol, Land Vorarlberg, Stadt Wien aggregated by Austrian Environment Agency.
Access constraints

Other restrictions
Other constraints

no limitation
Spatial representation type

Vector
Denominator

100000
Metadata language

English
Topic category
Reference system identifier

EPSG:4326
Reference system identifier

ISO 19108 calendar
Distribution format
Transfer size

0
OnLine resource

EMODnet Human Activities

(

WWW:LINK-1.0-http--link

)

EMODnet Human Activities aims to facilitate access to existing marine data on activities carried out in EU waters, by building a single entry point for geographic information on human uses of the ocean.
OnLine resource

cddaareas

(

OGC:WMS-1.3.0-http-get-map

)

Nationally Designated Areas
OnLine resource

emodnet:cddaareas

(

OGC:WFS

)

Nationally Designated Areas
OnLine resource

EMODnet_HA_Environment_CDDA_v20_20220713.gdb.zip

(

WWW:DOWNLOAD-1.0-http--download

)

ZIP (File Geodatabase)
Hierarchy level

Dataset
Conformance result
Date (Publication)

2008-12-04
Explanation

See the referenced specification
Conformance result
Date (Publication)

2009-12-15
Explanation

See the referenced specification
Conformance result
Date (Publication)

2010-12-08
Explanation

See the referenced specification
Statement

Validation and quality assurance remain up to the primary data sources, i.e. the European Environmental Agency (EEA). Data deliveries from the Eionet, the partnership network of the EEA and its 37 member and cooperating countries. In EU Member States the implementation of INSPIRE Directive may mean that the spatial information is provided via the national or sub-national INSPIRE data providers. All datasets were subjected to a series of quality assurance (QA) checks. In 2018 the CDDA data model and reporting mechanism was changed. The spatial data component of the reporting (referred to as Type 1 data) was aligned to the INSPIRE Protected Sites to avoid double reporting in EU Member States. The tabular data component of the reporting (referred to as Type 2) was simplified and redundant information removed following consultation with Eionet NRC Biodiversity. The Reporting guidelines with full details on methodology are available from the CDDA reference page, http://cdr.eionet.europa.eu/help/cdda. The positional quality check for the spatial data was carried out using the borders of the EuroBoundaryMap - version 12 (2018) https://sdi.eea.europa.eu/catalogue/srv/eng/catalog.search#/metadata/802300f9-4b37-41e3-8990-813ce01a3fb3
Overviews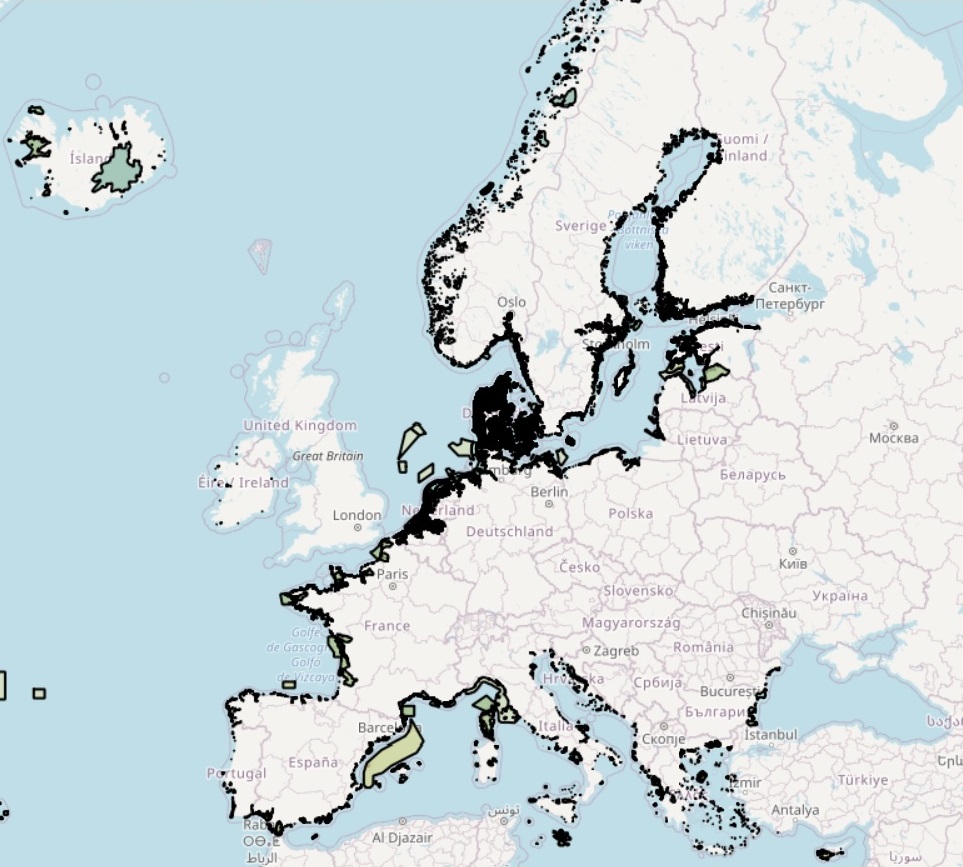 Spatial extent
Provided by
Associated resources
Not available